Gold & 'A' Sizing Night Last updated: May 18 2017 22:13:28
Gold and 'A' Fitting - Uniforms and Sportswear Sizing Night - May 25th 2017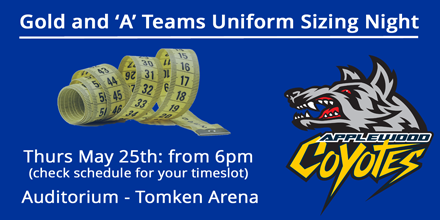 Schedule:
6:00pm Minor Novice Gold - Paul Jorgensen
6:30pm Novice Gold - Luis Cordiero
7:00pm Minor Atom A - Jeff Crewe
7:30pm Atom A - Mike Galinski
8:00pm Minor Peewee A - Mark Goulart
8:30pm Peewee A - Steve Vassallo
9:00pm Minor Bantam A - Chris Stamopoulos
9:30pm Bantam A - Paul Rebelo
9:45pm Midget A - Mark Zizek
Players should bring proper shoulder pads to be fitted correctly for their jerseys.
Teams please gather (10mins prior) and wait in the lower lobby area until we are ready for you.
Coaches please advise your parents/players what items are required as part of the team uniform so there is no confusion as to what to size and include.