Food Bank Charity Game Last updated: December 06 2018 10:52:18
Come out and support your coaches at our Annual Mississauga Food Bank Charity Game!
The game will feature brave members of our Peel Police Services vs Applewood's Allstar Coaches.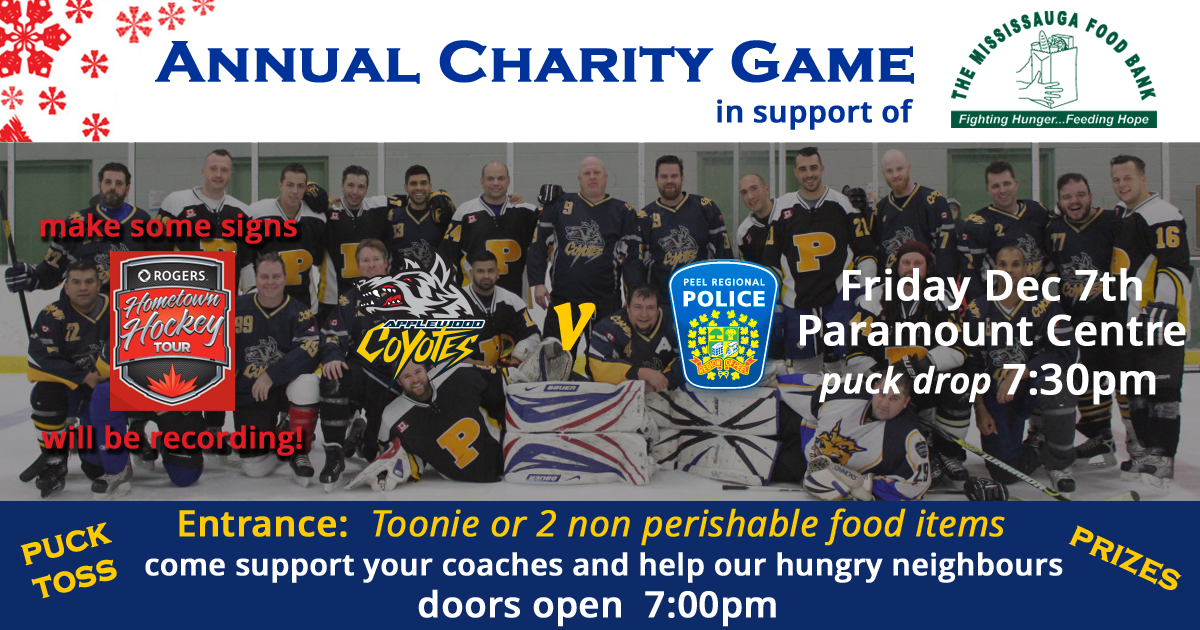 Rogers will be on site to capture a few moments of the excitement to add to their Hometown Hockey broadcast Dec 22/23rd. Signs and banners as well supporting both squads would be very welcomed. We ask that you bring either a cash donation of a toonie per person or two nonperishable food items. As this is for a great cause your generosity above and beyond would be tremendously appreciated! There will also be a puck toss for great prizes along with a team competition to see who can collect the most food and funds for a team prize.
Your Applewood AllStar LineUp includes:
John Evans - Goalie
Barney Bullock
Mat Cohen
Andrew Colabufalo
Evan DelCogliano
David Hill
Dwayne O'Leary
Myke McCandless
Chris Rebelo
Tom Reynolds
Marco Rinaldi
Jesse Rooyakkers
Michael Sciarra
Dallas Smith

So get the message out, bring your friends and let's show our community how Applewood helps support it while still having a blast!