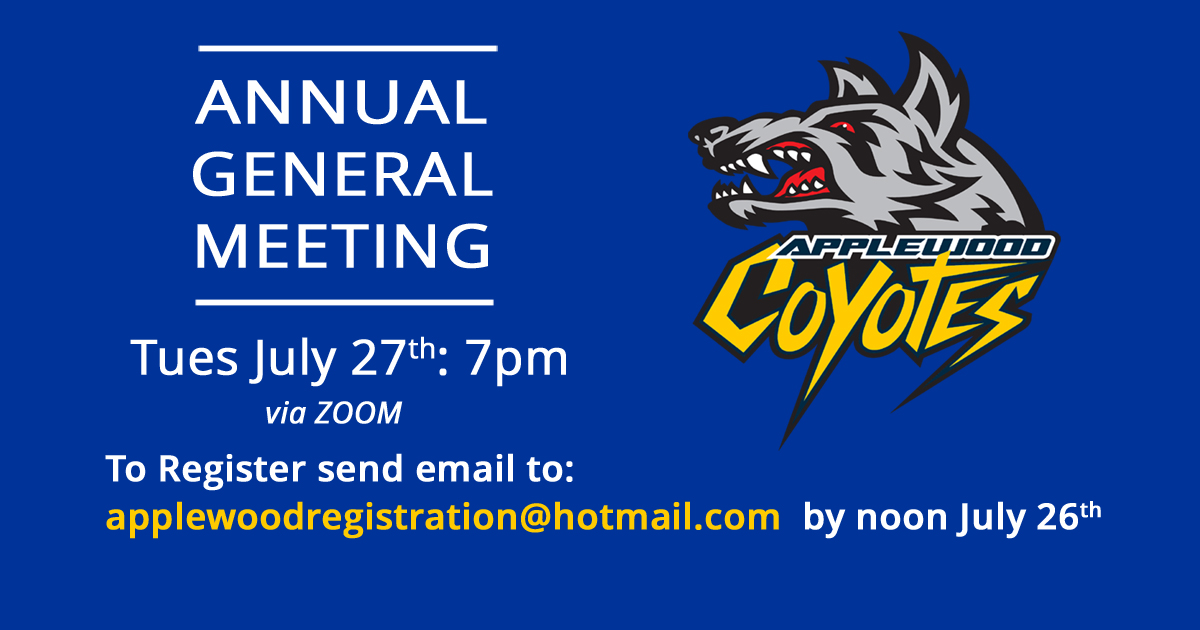 Notice of Annual General Meeting of the Members of
APPLEWOOD HOCKEY ASSOCIATION
will be held as follows:

DATE: Tuesday, July 27, 2021
TIME: 7:00 p.m.
LOCATION: Zoom Meeting

The purpose of the meeting is to:
Approve the minutes of the May 29, 2019 AGM
Receive the Financial Statements for 2019 and 2020
Appoint the Auditors for 2021 and authorise the Directors to determine their remuneration
Present and approve updates to the constitution of Applewood Hockey Association
Election of Directors
The following directors are standing for re-election for the coming year:

Arup Chakrabarty
Luis Cordeiro
Sandra Cordeiro
Mark Goulart
Brian Hudson
Jim McCaffrey
Jen Pacheco
Andrew Perry
Michael Raftus
Vince Sicilia
Spiros Stamopoulos
Wendy Webster
James Wilson
Mark Zizek

To register for this event, please email the secretary, Wendy Webster at


no later than noon, Monday July 26.

All current Applewood Hockey Association members in good standing are welcome to attend and vote. One member over 18 years per family is eligible to cast one vote per motion during the AGM.

Per AHA Constitution Article A.6 a) the Board of Directors shall consist of a maximum of fourteen (14) members, each of whom shall be elected at the Annual General Meeting. Per Article A6 (g) Nominations for the position of Director may be made from the floor at the Annual General Meeting.
By order of The Board,
Wendy Webster
Secretary